History of van cleef and arpels
The founder of this company; Alfred Van Cleef and Arpel were related uniquely. It was as if the wholeuniverse conspired to found this company. Alfred Van Cleef who was a son of a diamond cutter fell in love and married a beautiful girl, Estelle Arpels. Estelle was a daughter of Salomon Arpels who was a dealer in precious stones. They got married in 1895 and the following year Van Cleef and his father in law decided to found this company and named it "Van Cleef and Arpels".
The first boutique of this company opened in 1906 at 22 Place Vendome; after the death of Arpel. Charles and Julien brothers-in-law of Alfred joined and helped him set up his first boutique. This firm was soon joined by the third Arpel brother, in 1912. At that time, it had expanded to many places and they needed help to cope with it. Between 1910 and 1920, within only 10 years it expanded its braches to Nice, Vichy, Lyon, Cannes, and Deauville.
It became a family affair and in 1926 Alfred's daughter Renee Puissant joined it as the controller to the artistic direction. She worked here for about 12 years. Many other family members continued to join it years later as it expanded far and beyond.
Important pieces and collections:
Stones are inserted in gold rails of very small thickness. These stones are first cut and then placed in. This requires a lot of labour and working hours. They then kind of modified this technique and made more complicated and beautiful designs. In the 90s they were able to cut diamonds and incorporate them into different designs. This mystery set remains true to its name and it is one of the most sought-after pieces of this company.
The passé-partout necklace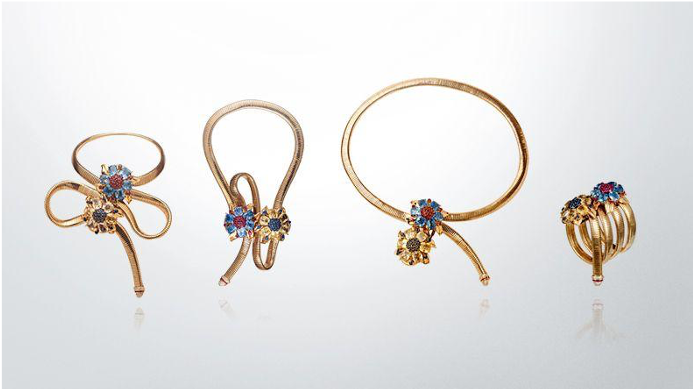 This design rose to popularity in the 40s especially after being worn by the famous actress Paulette Goddard and Doris Duke. A flexible gold snake chain is used on which are clipped two flowers. The metal rails of the chain are detachable and thus this necklace can be converted to bracelet, choker, or brooches. The flower is made up of sapphires in yellow and blue colour with a ruby at the centre.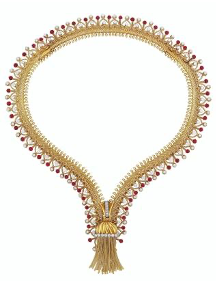 This has a quite interesting history. Daughter of Alfred, Renee Puissant, and the Duchess of Windsor was conversing over having something based on and similar to the normal zip. This necklace was therefore created and became a hit instantly. Although, it took many years to finally found a perfect way to design it, and only a few were made initially. To make this, gold and platinum are used, covered with diamonds, emeralds, rubies, or sapphires.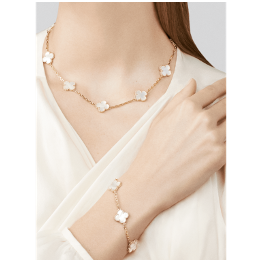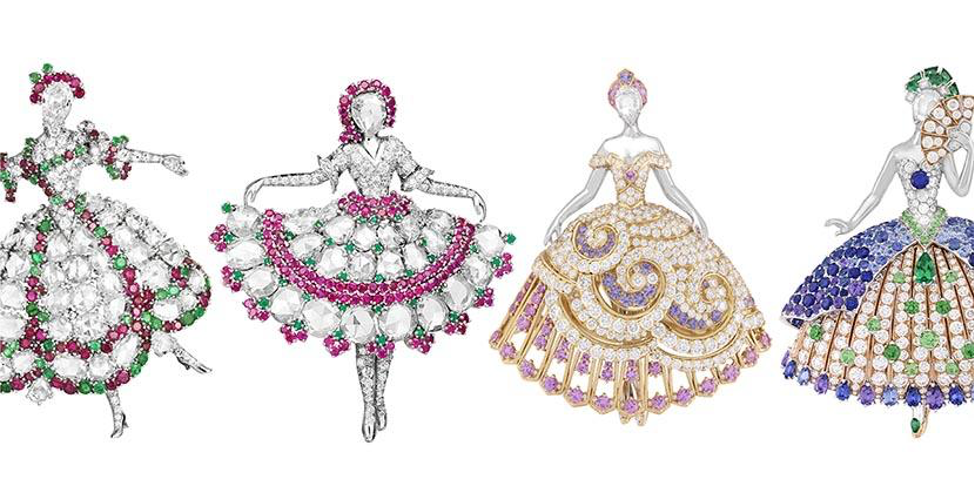 Jon Rubel was the creator of the first ballerina brooches. He was the main manufacturing jeweller for the company for many years. In 1941, "Spanish Dancer" was created but this was just the start. Then a series of fairies, ballerina, and dancers were produced. These owing to their unique design became very popular. The different dance poses, made with diamonds, gold, emeralds, and rubies was suddenly a new fashion and the clients of this company made sure to show their admiration by busying it in large numbers.
The popularity of these pieces
The jewellery of Van Cleef and Arpels have been very popular among celebrities and many big names including the royals. The most important clients they have had include Marlene Dietrich, Princess Faiza of Egypt, the Duchess of Windsor, etc. The stones used in this jewellery are exquisite and with patterns of variations in colours, boldness, and design, attracts everyone's taste.